Awards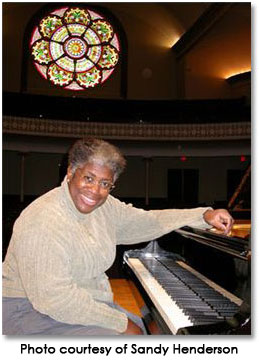 The Heritage Rose Window in the Alix Goolden Performance Hall of the Victoria Conservatory of Music is dedicated to Louise Rose in recognition of her contribution to music. As Louise says, "The dedication of this window acknowledges and validates the connection that art, culture and spirituality have in common."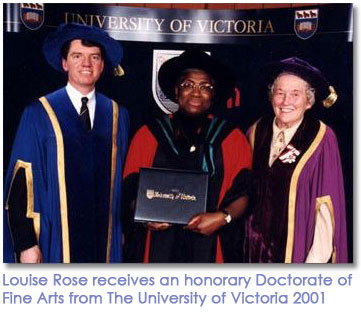 The following are selected excerpts from the citation read at the conferring of Louise's degree.
Born in Norriston, Pennsylvania, Louise grew up in a musical household and by the time she was eight, she was conducting her Grandfather's church choir! Embraced within a rich, spiritual environment, making music and helping others to do so, it does not seem surprising that Louise chose music and teaching as a career.
She received her Bachelor of Music Education from Temple University where she minored in English and Sociology and supported her academic "habit" by working as a policewoman. Louise went on to study at Harvard School of Divinity and be ordained as a Baptist minister.
For her, music and ministry are inseparable: She is a mentor and a minister through her music and her music itself mentors and ministers to widely diverse groups of people.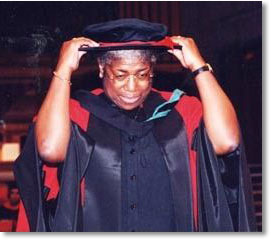 Louise Rose is extraordinarily gifted as a music maker. She has studied and worked with many familiar (and famous) names; among them, Aretha Franklin, Oscar Peterson, Ray Charles, Leonard Bernstein. Louise is treasured for her skills at arranging - and that might owe something to her studies with Duke Ellington at Tanglewood - but it also owes a great deal to the arranger herself...While Ms. Rose's association with high-powered and splendid musicians has surely benefited her (and them!); and while she teaches, arranges and performs across the North American continent; and while she has been the host of the top-rated, nation-wide Vision Television program, Let's Sing Again, it is through the particular lens of her work in Victoria that we may come to understand better the nature of the life to which she commits herself.
Louise is or has been artist in residence for a number of high schools in the area and gives workshops on an on-going basis to schools, colleges and the Victoria Conservatory of Music.
Louise offers her music to Long Term Care facilities, to churches and to this university; she is deeply concerned for human rights, working with committees on anti-racism and serving as Victoria's Special Ambassador for the United Nation's Children's Education Fund. She continues to mentor a number of young professional musicians and all this is apart from her solo career performing and recording as singer and pianist. Perhaps the clearest illustration of who is Louise Rose and why this university does honour to itself in recognizing her today, comes from the adoptive parents of Victoria children of African heritage, Louise has created a bi-monthly music program where they sing, dance and play together.
These parents write, "If you ask our children if Louise Rose is a woman of distinction and achievement, they would say, only if that means someone who laughs long and loud; who holds them tight when they are sad or scared; who tells them that they are the sweetest part of her life; who shows them that black is not only beautiful but a gift to be cherished."